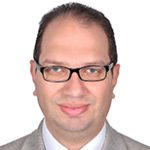 Hany will be responsible for all sales activities across Egypt, managing the business's key accounts and supporting commercial excellence and business development.
A Bachelor of Science in Mechatronic Engineering and a Master of Business Administration, Hany brings with him nearly 20 years of experience, having held roles in sales and marketing, market research and analysis and brand development.
Commenting on his appointment Hany said: "Greif Egypt is a high performing operation with ambitious plans for the future. The business already ranks high in terms of customer service excellence across Greif's entire EMEA region and is now working towards achieving the best in class ranking for sustainability. I look forward to contributing to its continued success."
Greif Regional Manager MENA, Abdennour El Mosor said: "Having the right caliber of personnel within the business is essential in order to fulfill our commitments around customer service, sustainability and business development. We are delighted to welcome someone of Hany's skill-set and experience onto the team."
Greif Egypt specializes in steel drum manufacturing including large and medium sized drums, tight head, open head, internally coated drums and conical drums. It serves major global brands in the lubricants market, as well as the agro-food industry for commodities such as tomato paste, glucose, starch and fruits concentrates.