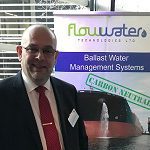 Shipping can learn from the experiences of the road haulage industry in the 1990s, where companies ignoring new legislation lost market share and those embracing compliance became market leaders, he told delegates at the BWMTech conference in London today.
"The road haulage sector started to embrace environmental legislation 26 years ago," said Hadfield.
"Some chose to ignore it, while other manufacturers embraced the new legislation, viewing it as an opportunity.
"Consequently, today, two manufacturers, who prior to the legislation held just 11% of European truck market sales, now hold over 50% of it."
Hadfield stressed the shipping industry should be proud of offering the most environmentally-friendly solution for the transportation of goods but must not rest on its laurels and should look to accelerate the pace of environmental improvements.
He identified plastics at sea as a significant challenge for the maritime industry, which is a major contributor to the 14 million tons of plastic entering the ocean every year.
Flow Water, the dedicated ballast water management engineering company has developed a combined Drinking Water and Disinfection Unit, which eliminates the need for plastic bottles called FlowSafe DCD2000.
"The introduction of FlowSafe DCD2000 by one of our customers, has meant the removal of all of the chemicals, and associated costs used by the crew for cleaning the galley, bathrooms, and cabins, along with all of the plastic drinking water bottles," said Hadfield.
"Combined, this means a total of 683,000,000 plastic bottles per annum no longer going to sea," said Hadfield.
"If a little over 1% of those bottles fell overboard, that would be close to 7 million bottles."
Hadfield said the shipping industry was on message with new regulations around ballast water management, but he could see a potential "environmental shipping oxymoron", arising from the necessary new ballast water systems.
"When you fit a Ballast Water System, you are fitting a power-hungry machine to your ship that wants to use masses of ultra-low sulphur fuel that has a 35% increased chance of destroying your engine with catalytic fines unless you fit more fuel-filtering equipment and add additives to the fuel," he said.
Flow Water Technologies has taken the environmental lead with the development of a carbon neutral ballast water management system called Flowsafe, which is set to deliver up to 1.3 bn Kgs of CO2 savings a year, based on the current order book.