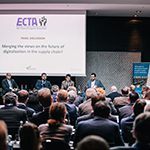 Key topics for discussion included uncertainty around Brexit, decarbonisation and digitisation of the chemical logistics industry. With numerous guest speakers, highlights from the topical discussions are presented below.
Digitalisation and Efficiency
The first guest speaker of the day, Jesper Bennike discussed end to end freight visibility, and improving customer experience through the digitisation of logistics data. The former CEO of Gatehouse Logistics, and EVP Business Development for Project 44, the world's two leading Advanced Visibility Platforms, Jesper was well positioned to present his views on the topic.
Jesper highlighted how using Project 44 and leveraging this process of digitalisation of data could help shippers, carriers and Logistics Service Providers (LSPs) alike through real time tracking and improving the accuracy of ETAs thus reducing OTIF fines for shippers, helping LSPs to reach automation goals without expensive custom solutions and allowing more business for carriers through digitalisation.
Is software replacing jobs?
With the digitalisation of processes being such a hot topic, the first panel discussion of the day debated whether LSPs are at risk of being reduced to asset providers if software enables shippers to plan their own logistics operations in-house.
Simon Hardy expressed that, whether achieved through further digitisation of data and automation or through human process, OTIF is of the utmost importance. He also expressed the need for balance between automation and being human.
Investing in data is necessary
With $2 million lost for every $1 billion of sales due to data errors, Simon Hardy, Elemica stated; "From CEFIC, the European Chemicals sales is about $650 billion. Without the automation that we do it would mean over $1 billion lost through errors."
Simon went on to discuss how data can help LSPs not only satisfy their customers but also delight them. Ideally, customers require OTIF but, in reality, it is often HOTUF 'hopefully on time, usually full'. Using technology, and in Simon's case, Elemica data, LSPs and their customers can quickly see which raw materials may not make OTIF, keeping both parties fully informed.
Improving Intermodal from Road to Rail
Highlighting the need for a modal shift Geert Pauwels, CEO of Lineas, described the challenge to intermodal logistics of the unsustainable levels of reliance on trucks, driver hours lost each year and levels of CO2 emissions coming from freight transport
Geert went on to suggest that an increased use of rail could be the answer to these problems, considering that this solution provides 6x less energy consumption, 8x less air pollution and 9x less CO2 emissions than alternative forms of transport.
"There is only 18% market share for rail," stated Geert, "which it is hoped will increase to 30% by 2030. Shifting transport from road to rail and making use of process streamlining, innovation and digitalisation will also take intermodal transport from survival to sustainable growth."
Alternative fuels
Continuing the theme of reducing emissions, Paolo Indiano and Volker Wehbe of Evonik Industries & Evonik Resource Efficiency, discussed the gargantuan topic of fuel alternatives.
Using bio-LNG and bio-CNG releases 20% less CO2 and 80% less nitrogen than diesel and reduces costs by around 30-40%. With statistics like this, it is difficult to see why the industry would not turn to such alternative fuels.
A possible reason could be the initial cost of trucks. CNG trucks for example cost around 50k euros more than trucks that run on diesel, but due to the cheaper bio-CNG, the trucks work out cheaper after just two years.
Staff shortages
The day-long conference not only covered environmental issues, but also long-standing challenges that regularly affect the logistics industry, such as driver shortages. This topic was discussed by ECTA RC Director, Evert de Jong, who described the shortage of qualified drivers, due to poor job attractiveness and demographical driver outstream, as business-critical.
Evert de Jong expressed ECTA's recognition that the value of and respect for the professional chemical drivers needs to be restored and that "attracting, engaging & retaining" new drivers is a responsibility of all Chemical Logistics Stakeholders. The Cefic-ECTA Network of Experts promised to give further recommendations for attracting new drivers to the sector to both shippers and transport companies this year.
Looking ahead
ECTA's annual meeting is already in the diary for 19 November 2020 and there is much anticipation for this year's topics of discussion. These will hopefully include the promised recommendations on attracting new drivers to the sector as well as an update on ECTA's Responsible Care 2025 Charter, including the key areas such as 'limitation of waste', 'limitation of emissions' and 'limitation of injury incidents'.