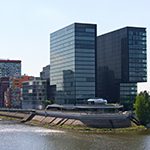 On the evening before interpack trade fair, EFIBCA will host its third Dinner Reception at the Hyatt Regency Hotel in the heart of Düsseldorf's Media Harbour. Open to EFIBCA members and non-members, the reception is an ideal platform for exchange and networking across the FIBC industry. Everyone across the supply chain is welcome to attend and bring their customers and guests.
The evening will include a cocktail reception, greetings from the President and General Secretary, a guest speaker and of course the networking dinner.
Registration for the dinner also includes a day ticket to the interpack trade fair. The registration deadline is 17 April 2020.