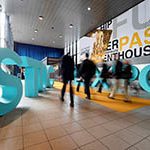 The global event, hosted at the Ahoy in Rotterdam in 10-12 March, provides an unrivalled platform for exhibitors to showcase their latest innovations and developments in front of their fellow industry leading professionals and decision makers.
Jackie Berry, Global Distributor Manager at Guided Ultrasonics Ltd., explains: "StocExpo provides us with a platform to present our innovations to leading oil majors, terminals and key storage players from all over the world. The event is always forward-looking, and we can't wait to show organisations how they can best tackle the challenges they have today, and those they may face in the future."
Grace Zhang, Sales Representative at Qingdao Alptec Safety Equipment Co., Ltd., notes: "The event gathers the world's best industry leaders, professionals and manufacturers in the oil storage and transportation industry. There is no better place to see the launch of advanced, ahead of the curve products and services."
Bernat Sala, CEO at Tecam, states: "Due to the strategic location of the event in Rotterdam, we consider StocExpo to be an essential meeting point for suppliers across the bulk liquid storage supply chain to get in front of potential buyers."
In addition to providing a platform for a growing number of product launches, StocExpo will also host a two-day conference programme. This will feature a wide-ranging mix of talks focussed on critical global issues such as sustainability, the impact of energy alternatives, emerging markets, latest technologies and trends, all delivered by 20 world-class speakers.
The event's Innovation Zone, which will be hosted by iTanks, the knowledge and innovation platform for the port-related industry, will showcase the latest industry technologies.
Mark Rimmer, StocExpo Divisional Director, says: "The event and its exhibition will host the world's leading companies from across the entire bulk liquid storage supply chain. Visitors in attendance will have the opportunity to learn from the best in the business where the industry is heading. StocExpo 2020 is undoubtedly the place to be for anybody keen to get amongst major industry players and their future-defining products and services."