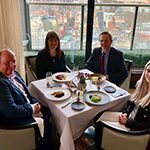 To celebrate the anniversaries, the two most recent members of the A&D Publishing team, Margaret Major and Stephanie Samuel, joined the current owner Nick Smith, and the launch publisher Patrick Hicks for lunch and enjoyed the opportunity to look back over the history of the title.
As Tank Container World, advertising director Anne Williams joined Patrick Hicks and began building an extensive network of key players within the bulk, logistics and container world. 30 years later, Anne continues to be a highly valued member of the team.
One of the magazine's first staff writers was Andy Burnham, who worked with Patrick and Anne for two years before entering the world of politics, serving in several posts under the Labour governments of Tony Blair and Gordon Brown. In 2017 he was elected Mayor of Manchester.
In 1993 the magazine became Tank World in recognition that the traditional road tanker still had a role to play in bulk logistics with many operators using both equipment types.
Mindful of equally valued bulk liquid technologies, in 1994 the magazine was renamed Tank World and IBCs Today. However, before the title became too unwieldy by including other technologies such as flexitanks and bulk liners, the all-encompassing banner of Bulk Distributor was chosen in 1997 – which remains to this day.
Over the years Bulk Distributor built a reputation for solid, balanced reporting on the many changes that its target sectors have witnessed. For example, in those early days South Africa was the epicentre of global tank container manufacturing. This was primarily a vehicle for local investors to circumvent exchange controls by acquiring dollar-earning assets.
But Bulk Distributor was one of the few media to predict early on that China would eventually become the dominant player in tank building, which is the situation today.
We were also – and still are – unique in covering the rise of the flexitank as an alternative for shipping non-hazardous bulk liquids.
More recently, we have provided extensive coverage of the impact of digitisation and the Industrial Internet of Things on mobile assets, and how these technologies can enhance the optimisation of bulk logistics.
In 2010, Bulk Distributor was acquired by A&D Publishing, based in Knutsford, Cheshire. Neil Madden, who had joined the magazine as managing editor in 2005, remained with the title, seeing through the transition to the new owner. He continues as managing editor to this day.
Our editorial efforts have been backed up by A&D's in-house production team, Ann Butler and Berni Chetham. Mike Reardon joined the team in 2014 as business development executive and took the publisher role May 2017 until December 2018, while most recently Margaret Major became commercial manager in 2017, and Stephanie Samuel joined in September 2019 as a content writer for the title.