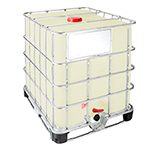 The inner layer of this sustainable bottle remains 100 percent virgin high density polyethylene (HDPE), while the two external layers are made from a blend of PCR. The virgin HDPE inner layer and accurate selection of PCR assure product integrity.
Internal analysis estimates that this reduces the carbon footprint of the bottle by up to 38 percent and up to 11 percent for the entire IBC.
Currently available from Greif's Castenedolo plant in Italy, where it was developed using PCR from its IBC collection service and extruded at its on-site recycling centre, the GCUBE PCR bottles will soon be available across the company's global network of GCUBE IBC facilities including Germany, Netherlands, Russia, China, Spain and the USA.
Luca Bettoni, Global IBC Product Manager, explained: "Sustainability is one of Greif's guiding principles. Over the last decade much of our innovation strategy has focused on developing products that use less virgin raw materials and incorporate more recycled content, while continuing to meet performance requirements, helping all of us meet important waste reduction targets. The GCUBE PCR bottle is yet another significant development in this area."
The GCUBE PCR bottle offers all the same features as Greif's standard IBC bottle including transparency and is suitable for non-UN and non-food products such as lube oil and AdBlue.