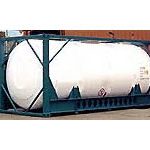 The course will now take place on week commencing 14th September at the same venue.
Postponement was necessary due to the COVID19 restrictions both globally and specifically in the UK.
Having offered this highly specialised training course for tank container operators since 1987, New Alchemy's course focuses on dangerous goods in tank containers but not exclusively. Beer tanks, for example, are encompassed.
This course takes as its themes in order to be a tank container operator:
You must have a knowledge of the legislation, particularly the dangerous goods legislation governing their use
You must have a good understanding of the dangers of the chemicals which are carried in tank containers
You must have an appreciation of how tank containers are designed, constructed, inspected, tested and certificated
You must then put all this knowledge together to plan and carry out a tank container operation. You must, for example, understand heating systems, marking and labelling and what documentation is needed to accompany the laden tank container.