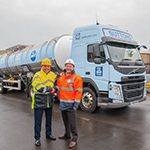 The innovative logistics and supply chain business, part of global firm Suttons Group, will be transporting the clear non-toxic liquid across the country from sites in Scunthorpe, Immingham, Tilbury, Widnes and Gretna.
Michael Cundy, Managing Director Suttons Tankers, said:
"We already have a strong relationship with Yara and look forward to further delivering efficiencies for the business.
"The innovations and efficiencies of Suttons' UK wide depot network and an ability to respond quickly to Yara's future needs were instrumental in helping us secure this significant new contract for our Tanker division."
Paul Norman, UK & Ireland Manager for the Air1® Business at Yara, said:
"As the largest AdBlue® manufacturer with a worldwide presence, we needed a partner that is able to deliver a safe and reliable service for our market leading Air1™ product.
"This latest partnership with Suttons sees a reduction in mileage for our fleet. This not only reduces cost, but also improves customer service which is a key focus of ours. It also has a positive impact on our carbon footprint."