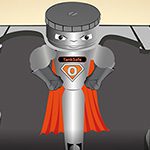 Just a few months after introducing himself as the future of fuel protection for the haulage industry, TankSafe® 'Optimum' will battle with the "rogue anti-siphons" in a new animation, created by the experts of fuel security and safety, TISS.
The film, set in the fictional city of Truckem, shows how TankSafe® 'Optimum' can protect fleet owners and operators from "basic" anti-siphons which are hoodwinking haulage firms into thinking they are protected against fuel loss, when in reality these rogue anti-siphons continue to allow fuel to be easily siphoned.
TISS illustrator Andrew Green and videographer Shaun Nelson brought the character to life, basing TankSafe® 'Optimum' on comic books from their childhood.
Nick Hyde, marketing manager for TISS Ltd, said: "We have received a lot of positive feedback since launching the TankSafe® 'Optimum' character last year.
"We want to make him front and centre of all our marketing campaigns, making fleet owners and operators aware that diesel theft is a real threat and only one device can give you peace of mind.
"We are very proud of the animation as it is not only unique in this industry but also illustrates the fundamental issue of fuel theft and spillages on a global scale."