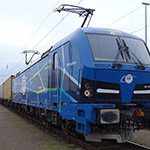 The freight capacities of sea and air freight traffic have declined sharply compared to previous months due to the current crisis situation. Due to restricted shipping traffic, almost all container shipping companies are currently demanding substantial surcharges. As a result, there is an increased demand for transport by rail and the routes of the New Silk Road.
As far back as September 2019, the decision to intensify cooperation between the GETO and International Coordinating Council on Trans-Eurasian Transportation (CCTT) set the stage for the creation of this new Silk Road route. Together, GETO and CCTT have developed proposals for the use of both innovative technologies and existing IT solutions and contributed to their implementation. This preparatory work of the CCTT and GETO has led to a coordinated network of industry, public authorities, existing terminals and rail networks, from which not only GETO, but also Mukran Port and UTLC ERA, who are CCTT Standing Members, now profit.
Harm Sievers, President of GETO, sees great potential for all routes of the New Silk Road, especially in the current period: "The Asian region is already beginning to recover from the corona crisis. In times of normalisation, the container train connection will play a major role, as it represents a powerful alternative transport corridor. Above all, we must work on coordinating rail transport in Europe, Russia and Asia together to improve the Silk Road as a whole".
"In recent years, the state of Mecklenburg-Western Pomerania has increasingly invested in the expansion of the infrastructure of the hinterland connection. As a result, we can now offer very fast transfer times of between four and eight hours within Germany", says Mecklenburg-Western Pomerania's Transport Minister Christian Pegel and continues: "Likewise, the densely populated and highly industrialised south of the state can be quickly supplied with supplies via the Mukran Port and Rostock Port. The Sassnitz port with its extensive areas, the well-developed 90-kilometre-long rail network and direct access to the open sea is an excellent location as a logistics hub for international multimodal transport within the framework of the New Silk Road".
With the establishment of the Silk Road sea route as an alternative to the proven land routes, the UTLC ERA is sending a strong signal in the current global crisis situation.
Alexei Grom, President of UTLC ERA: "The advantageous geographical locations of the ports of Mukran and Rostock will allow to significantly shorten the time of delivery of cargoes from Scandinavia to China, thus eliminating the need for cargo consolidation in the heart of Europe, which is particularly important in the current conditions of temporary suspension of terminal operations due to the outbreak of coronavirus. In GETO we have found a reliable partner and I am confident that together we can ensure that this route is promising and will lead to a significant increase in the volume of freight transported by rail".