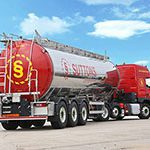 The innovative logistics and supply chain business, part of global firm Suttons Group, will be transporting gas condensate from Spirit Energy's Barrow Gas Terminal in Cumbria to Haltermann Carless in Harwich.
Suttons are already a trusted partner of Haltermann Carless and have proven again that they can provide the scale and expertise needed for the desired solution.
Suttons advised Spirit Energy on best practice with regards to vehicle equipment and specification. With DGSA qualified experts within the business, Suttons were able to support in the writing of procedures and consulting with engineers to ensure a safe working environment for appropriate road loading.
Suttons' network of strategic geographical depot locations supported a solution of inter depot night trunking, minimising the requirement for resources while maximising the use of equipment and speed of delivery.
Michael Cundy, Managing Director, Suttons Tankers said: "We look forward to strengthening our relationship with Haltermann Carless by providing them with an efficient and cost-reducing delivery solution.
"This significant contract win for the Tanker Division builds upon our strategy of articulating our strengths in added value based solutions."
Steve Richardson from Haltermann Carless said:
"We are delighted to be working with Suttons on this contract. The safe delivery of our material is of utmost importance to us and Suttons' track record and commitment to safety made them the ideal partner for this contract.
"Due to the nature of Spirit Energy's gas field operation, reliability of the transport service is crucial and the scale and infrastructure that Suttons offers assures us that we can meet the needs of the business."