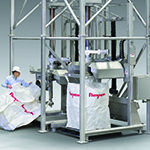 The patented filler design simultaneously lowers and pivots each fill head into a vertically-oriented position that places the inflatable spout connection collar, inflator button, and four bag loop latches within reach of an operator standing on the plant floor. This significantly increases the safety and speed of connecting bulk bags, as the operator can connect each bag loop and the bag spout without having to stand on a ladder or reach over equipment to secure the bag.
Bagging rates are further increased by drastically reducing the time needed to load material into the bag. The new system's dual gain-in-weight hoppers allow pre-weighed material to descend into the bag at extremely high rates, and saves time by refilling the weigh hopper while the full bag is being removed and an empty bag is being connected.
While a bag is being filled and then forklifted on one side, an operator can connect an empty bag on the opposite side. Widened base frames allow filling of portable totes in addition to bulk bags.
The all-stainless steel system is finished to sanitary standards and equipped with a corrosion-resistant, water-tight and dust-tight controls enclosure, allowing wash-down.