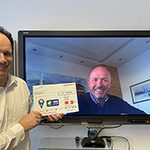 UNION TANK Eckstein GmbH & Co. KG (UTA), one of the leading providers of fuel and service cards in Europe, and DocStop, an initiative for better medical care for professional drivers, are helping truck drivers access washing and showering facilities free of charge with the SaniStop campaign, thus helping protect their health in the corona crisis.
Due to the coronavirus situation, many service stations and rest stops in Germany have severely restricted access to sanitary facilities and some have closed them altogether.
"We keep hearing about drivers being unable to use the toilet or shower facilities at service stations or rest stops or even to wash their hands when taking a break or on a compulsory rest period," says Joachim Fehrenkötter, chairman of DocStop and a freight forwarder himself. "We launched the SaniStop campaign to offer a quick and effective solution."
As part of the SaniStop campaign, forwarding companies, shipping agents, service stations, petrol stations and other companies now provide HGV parking spaces with access to toilets and showers to make sure that drivers on the road have access to normal everyday sanitary facilities. More than 150 contact points throughout Germany are now part of the SaniStop campaign.
"In our current exceptional circumstances, HGV drivers continue to make invaluable contributions and ensure that we continue to be provided with basic services. They are particularly affected by the closures of service stations and rest areas and the sanitary facilities there," says Carsten Bettermann, CEO of UTA. "We are therefore pleased to be able to support the SaniStop campaign as its exclusive sponsor together with DocStop and help protect the health of HGV drivers on German motorways."
Find a list of all SaniStop stations with toilet and shower facilities and a map at www.docstop.eu/sanistop.