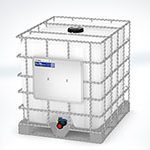 The prerequisite for this well-functioning circular economy is a high capacity and a closely linked collection system with 50 production and service locations around the globe.
The Schütz Ticket Service has become the largest producer-owned network for the collection and reconditioning of emptied IBCs. The emptied IBCs are fitted with original inner bottles and components produced in a globally standardised, eco-friendly process. The result, a one hundred per cent compatible Recobulk in a standard specification made from a Schütz Ecobulk.
To expand the service of reconditioning, Schütz offers now with the new Recontainer cross-bottling – the reconditioning of IBCs from other producers – at the highest standard.
Safety through uniform processes and originality
As with the reconditioning of own IBCs, collected containers of other brands are evaluated according to the last filling product. Possible residues are removed and appropriately disposed. Subsequently the inner bottles are replaced.
The recyclable grid cage of the foreign producer is extensively cleaned and if necessary repaired, and then fitted with a new universal Schütz inner bottle. The specially developed inner bottle has been technically adapted to fit into the cages of numerous IBC models on the market. The inner bottle which was removed is recycled in an internal recycling system from which high-quality HDPE recyclate is generated and then used within the closed cycle to produce plastic components such as corner protectors and plastic pallets for the IBCs.
Furthermore, the Recontainer is equipped with a new label plate which has also been optimised for the different grid cages, as adhesive residues from labels are unavoidable on the old label plates when they are only cleaned. Further components such as screw caps and discharge valves are replaced with new original parts during the inner bottle replacement process. Thus, the packaging specialist guarantees the highest quality in cross-bottling.
The advantages: Customers that use the Recontainer can rely on Schütz's proven standards when using this packaging for their valuable filling products. The IBCs are delivered as a single-type standard specification. At the same time Schütz is contributing to the conservation of natural resources through the eco-friendly reconditioning of IBCs from other producers.