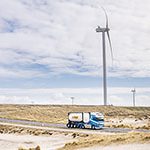 In addition to latest news from the company and the industry, plus a range of insights into Stolt Tank Containers' services and workforce, the upgraded site provides access to a live customer shipment tracking system and brand-new supplier portal.
The improved online availability of information and digital services, which complements the company's personal approach to providing bespoke tank container services, comes at a time when it couldn't be more critical. "The impact of COVID-19 on supply chains across the globe has increased the need for a truly innovative approach, incorporating and building upon real-time information and communication." says marketing director Mark Bertens.
"We had been preparing the new website and supplier portal for some time before the coronavirus crisis emerged, so this is not just a response to the current situation. However, our efforts have come to fruition at a timely moment. We are very glad to be in a position to better support our customers' needs during these especially challenging times.
"We've seen a lot and learned even more after 38 years in the industry. Which is why we knew the time was right to up our game even further when it comes to providing the fast, easy and flexible service our customers need."