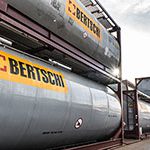 The Bertschi Group has so far coped well with the effects of coronavirus, helped by the prompt and successful manner in which Bertschi China tackled the challenge at the outset. Similarly, the Group's major investments in its digital transformation over the past two years enabled it to shift 80% of its office-based staff to home office settings within days and with no impact on quality. The focus on combined transport, in which block trains cross the national borders rather than trucks with drivers, has enabled smooth transport operations during the border closure phase in Europe.
'Thanks to organisational precautions, a high level of awareness and great care on the part of all employees, as well as a comprehensive working-from-home structure and separate shifts in operational processes, we have so far navigated the crisis without a single case of infection within the Group,' says Jan Arnet, CEO of the Bertschi Group.
Robust financial footing
Furthermore, based on the financial scenarios for 2020 and 2021, Group Management and the Board of Directors have secured the Group's long-term liquidity with additional bank loans. The Group's robust financial footing and its outstanding rating by banks facilitated favourable borrowing conditions. 'In addition to long-term liquidity, we have achieved our objective of attaining sufficient room for manoeuvre to proactively take advantage of opportunities offered by the market even during the crisis,' says Hans-Jörg Bertschi, executive chairman of the company.
Peaks and troughs
As a result of coronavirus, business volume in Bertschi's most important European transport segment has declined by almost 20% since April, due mainly to the slump in demand in the automotive and durable consumer goods sectors, which use many chemical products. Recovery of the two sectors is expected to be slow, possibly lasting until the end of 2021. The coronavirus situation has also yielded some new opportunities. The experience has spurred many customers to diversify and strengthen their supply chains, and greater sustainability is becoming increasingly important to them. Bertschi wants to seize these opportunities with new services and thus compensate for transport losses. Jan Arnet emphasised; 'Even during the crisis, Bertschi is proactively seizing new opportunities in the market and investing in innovative and sustainable customer solutions. This applies to both the European market and our global services, where we see considerable potential for future growth.'
Bertschi Group's business performance over the first five months of 2020 has been satisfactory in view of the major challenges it faced. The road back to normality will take some time, however, and there is a continued risk of further setbacks. 'We do not expect global demand for chemicals to return to pre-crisis levels until the end of 2021. However, we do see short-term opportunities in the market and can implement the necessary investments very quickly thanks to our robust financial situation,' says Hans-Jörg Bertschi.