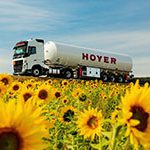 Ortwin Nast, chief executive officer of the Hoyer Group, says: "We can make use of many years of experience in transporting and handling industrial, chemical and special gases, and we have equally long expertise in supplying mineral oil. The fact that we bring gases liquefied under pressure and cryogenically safely to their destination every day is particularly due to our optimally trained drivers and dispatchers."
The logistics specialist relies on weight-optimised, state-of-the-art equipment for maximum safety and economic efficiency. All of the Group's equipment has the necessary approvals entitling the company to load at major European LNG storage terminals. The Hoyer Group transports LNG in tank containers worldwide. The majority is moved in intermodal traffic.
LNG plays a twofold role for the Hoyer Group: with a view to the future, the use of alternative drive systems is increasing, which sends a clear message about climate protection. For this purpose, the company is successively expanding its fleet by including LNG trucks as well as compressed natural gas (CNG) vehicles. Hoyer has already put four LNG trucks and seven CNG vehicles on the road.
Ortwin Nast says: "As gas transport experts, we ensure the safe transport of all kinds of gases on a daily basis. Expanding our truck fleet by including climate-friendly trucks is a logical consequence, and emphasises the values of the Hoyer Group." Engines fuelled with liquid natural gas emit around 15 per cent less CO2 emissions and approximately 60 per cent less nitrogen oxides compared to conventional diesel engines. An LNG engine also consumes less fuel.
The topic of alternative drive systems will be followed up intensively in the future. Steady expansion of the service station infrastructure, together with attractive measures such as exempting LNG trucks from highway tolls reinforces the trend towards LNG trucks, despite higher acquisition costs compared to their diesel equivalents.