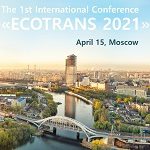 Originally due to take place on April 16 2020 at the Hotel Golden Ring in Moscow, the conference has been moved to Thursday April 15, 2021 at the same venue.
Ecotrans 2021 is dedicated to innovations in container transportation, including new types of tank containers, composite tank containers as well as discussing and finding solutions to the problems of ecology and safety/security of this mode of transport.
Find out more about this conference here.