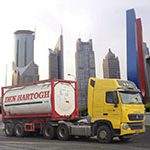 "The majority acquisition of XT Logistics will further enhance our domestic footprint in China. Our integration with an established trucking partner reflects Den Hartogh China's ambition to offer one stop logistics services for our existing and also prospective customers", says Group managing director Pieter den Hartogh.
The joint venture will own and operate an initial domestic fleet of 13 trucks and 20 chassis. XT Logistics also has the necessary Dangerous Goods (DG) trucking license and permits to transport a wide variety of chemicals.
Den Hartogh Logistics has identified the Asia-Pacific (APAC) region as a key engine of growth. Since 2019, the company has significantly expanded its commercial operations and fleet presence in APAC to facilitate customer demands for intermodal chemical logistics.
"We are here to grow in Asia. Grow with us!"