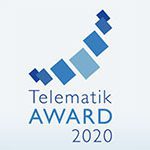 The organiser, Mediengruppe Telematik-Markt.de, aims to present the telematics industry in a more transparent and understandable way for the user and to showcase future trends using best practice examples by honouring the top providers in their sector. Dethmer Drenth, managing director, IMT, said:
"It is great that what our dedicated team of hardware and software engineers jointly achieved in creating the CLT20-Ex has now been recognised with this award. It gives us an extra incentive to continue developing fully-fledged telematics solutions that offer added value for our customers in the tank container and rail wagon market."
The quality of the internationally renowned Telematics Award is guaranteed by the expertise of the organiser and its partners as well as the expertise of the prominent expert jury. The winners of the Telematics Awards are decided by an independent, highly competent specialist jury with eminent members from business, science, specialist journalists, users and experts.
Dethmer Drenth, commented:

"We hear from our customers that they really appreciate the CLT20-Ex because of the unlimited data transfer that this device offers thanks to solar energy. Also, the very accurate information that the CLT20-Ex provides about their tank containers or rail wagons and the cargo itself is helping our customers to optimise their fleet management, increase safety and monitor minutely the quality of the cargo. More and more companies need continuous and accurate monitoring of their fleet. The CLT20-Ex, which offers a near real-time and worldwide overview of the fleet and its cargo, perfectly meets these needs. The fact that the possibilities and functionalities of our latest innovation have now been recognised by an independent jury of experts is therefore of great importance and above all very inspiring to us."