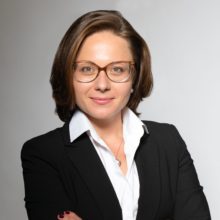 With immediate effect, Marianna Levtov will take over the position in the working group 'AEI for containers and container related equipment'. In this function, Marianna will represent the 17 member states of the working group for the next three years and will be committed to establishing practicable worldwide standards for the container market to embrace the digital age.
"In 2019 I was invited to ISO to develop standards for the industry. I am very proud to now take over the lead of the working group. My mission over the next three years will be to work together with industry experts and representatives from other companies to define sustainable standards for the entire logistic sector. During the current COVID-19 crisis, we have been reminded of how important reliable supply chains are in our interconnected age. Our task will be to find out how container equipment and especially digital equipment can support faster, safer and more dependable transportation," says Marianna, who has led some of the most complex proof-of concepts between the rail cargo and shipping industry in the Middle East, Russia and the Far East.
Besides her role in ISO, Marianna, who is a native from Israel and fluent in Russian and Mandarin, is also active in numerous other standardisation organisations, like ITCO, COA, EPCA and several UN bodies.
Stefan Kalmund, CEO of Nexxiot, comments on the importance of standardisation: "Standards will bridge the demands from various technology providers, as open and inclusive standards will ensure that the market is not flooded with incompatible technology. The main focus is on interoperability across different transport modes, and we are proud that Marianna, as one of our leaders, will take over the role for this group. Digital container equipment must function perfectly on the ocean as well as on rail and road in order to provide the services our clients require."