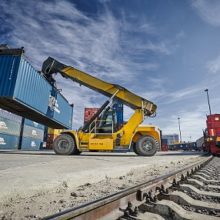 Previously, Chinese Railways' had prohibited the movement of containers carrying fleixtanks via inland border-crossing points, and so they had to be shipped by sea.
However, following negotiations between Russian and Chinese Railways, the parties agreed to launch test runs via the Zabaikalsk border crossing.
The first four units of 20ft containers loaded with vegetable oil in flexitanks were dispatched from TransContainer's terminal at Penza-2 station late August.
If the trials are successful, regular shipments might begin over this route.