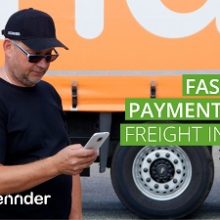 Through this partnership, the two companies have developed a new invoice-factoring product for carriers in Germany and Poland that simplifies the invoicing process and pays carriers within 24 hours of them submitting an invoice.
sennder is already offering a fast payment option to carriers when they are driving directly for sennder. But, many carriers in the industry are faced with long, manual processes to onboard new customers to their factoring arrangements – often requiring in-person meetings with numerous third parties.
Now, sennder and JITpay™ are providing a fully digital invoice-factoring solution that gives carriers the ability to register their clients to a centralised invoicing system in only 15 minutes.
A timely solution
The ability of sennder and JITpay™ to provide access to invoice factoring through an entirely digital process and in less than 24 hours is a unique offering to the logistics sector.
Collaboratively driving digitisation
The partnership is a natural fit, both sennder and JITpay™ share the commitment to drive digitalisation of the logistics sector. This new product has been created collaboratively, with sennder providing counsel on the practical challenges the carriers face and JITpay™ using its in-depth technological and financial knowledge to assemble the product.
Felix Hellmann, head of services at sennder, says: "We are delighted to offer our carriers greater flexibility over their payment terms at such a critical time. The industry has gone through a turbulent time over the past five months. The digitalisation of the industry is now more important than ever.
We are pleased to partner with JITpay™, providing an innovative invoicing and payment solution which makes life easier for carriers."
Dr. Daniel Steinke, CEO at JITpay™, says: "We are pleased to be working with sennder to collaboratively help digitalise the logistics industry. Payments play a key part in this and we look forward to expanding our solution across Europe later this year."
Initially, the service will be available for transport carriers in the Polish and German markets. Broader roll-out across the European market is expected later in the year.