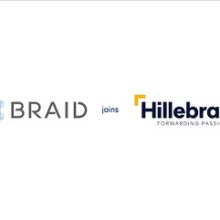 Both companies are focused on non-hazardous liquids logistics. Historically, they have been the largest two flexitank operators in the world. In addition, Glasgow, UK-based Braid has one of the world's largest food-grade tank container fleets.
Founded 175 years ago in Germany, Hillebrand is a major wine logistics operator. It entered the flexitank sector in 2007 with the acquisition of Trans Ocean Distribution (TOD).
Hillebrand CEO and chairman Cees van Gent commented:
"With its global reach, wide range of customised logistics solutions in bulk liquids transport, as well as its manufacturing and technology know-how, the acquisition of Braid supports Hillebrand's strategy not only to lead the market in logistics services for alcoholic beverages but also for non-hazardous bulk liquids."
Allan Leddra, CEO of Braid, added:

"Hillebrand's acquisition of Braid provides a major growth opportunity for both businesses. The two companies will achieve more as a unit, increasing value for customers, given both companies' high reputations in bulk liquids logistics".
Leddra and the Braid management team will join Hillebrand to drive through the integration, although the two companies' services will, for the time being, be run separately. Bringing both businesses together will unfold over the next 12 months.
A fuller report on this story will appear in the November/December edition of Bulk Distiributor.