With key aims to increase sustainability and quality control of the goods it ships, Polish railroad operator Transchem now works with Nexxiot technology. Nexxiot enables Transchem to gather and analyse the data they need to make better decisions for improved operational performances.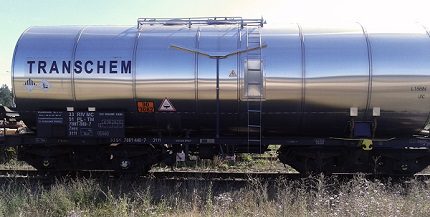 With more than 20 years of experience, Transchem knows what it takes to deliver high quality services to its end customers in the chemicals and energy sector. As a licensed Railway Undertaking, Transchem provides rail cars and traction with a fleet of over 1,000 railcars and operations spanning Europe. With a focus on innovative solutions and 'best in class' services the topic of sustainability has risen to the top of the corporate agenda.
"We noticed some of our partners were not as focused on the sustainability and emissions topic as we are," says Rafał Cisek, director for international cooperation at Transchem. "We want to ensure we can say with confidence that we have done all we can to reduce unnecessary emissions and maximise the quality of the goods we transport. Our customers depend on us to do this for them," he went on to say.
Transchem is transporting liquid bulk goods, many of which are temperature sensitive. Some of the chemicals are caustic or flammable, meaning monitoring hardware is required that's intrinsically safe to use in hazardous industrial environments. Other goods need to be actively monitored for temperature so they can unload them at the right place and time. "A lot of the time we feel like our partners overheat the product to be on the 'safe' side but this results in excess costs and wasted heat energy which leads to soaring emissions," says Cisek. The Nexxiot solution is able to meet all these requirements to bring transparency to Transchem's processes."
Cisek continues:
"Our customers naturally have high expectations. They see us as their quality service provider of choice and this step to digitise the rail fleet is in keeping with their requirements". Cisek chose Nexxiot as a technology partner because Nexxiot has an integrated approach on the technology and a reputation as market leader and innovator. "This now allows us to make assessments in real time on deployment of heating solutions and decide how much time is required to manage loading and unloading schedules. This means we save on shunting by managing the moves better, we provide better quality for customers and we get better visibility on partner services to ensure we reach our own sustainability goals."
Monika Ferenz, managing director Poland at Nexxiot, says:
"This is in line with our motivations to address the current global megatrend of improved sustainability and supply chain transparency. Our clients want to assess the environmental behavior of partners and supply chain participants to get a single view of their actual energy utilization and performance. The deployment of the technology opens the path to multiple wins in social, environmental and business value."