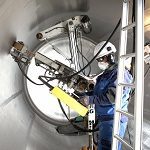 Since the end of October 2020, the provider also has additional sites at its disposal for comprehensive tank container services in the USA, China, Thailand, Vietnam and Singapore. By taking this step, the company establishes the provision of services in standardised high-level quality, safety and security at central international logistics hubs, and becomes one of the leading service providers in this segment worldwide.
In the past few years, cotac has developed from being a regional provider into one of Europe's market leaders, offering the highest standards of service for tank cleaning, repair and depot services. The technical services for tank containers guarantee the smooth, safe and secure progress of liquid products logistics, and are an important part of the logistics chain. cotac specialises in cleaning containers for chemical products, liquefied gases and foodstuffs. As a supplement to repairing tank containers, road tankers, intermediate bulk containers (IBCs) and mini pressure tanks (MPTs), the portfolio also includes modifications as well as servicing and certifications.
With its historic roots in the strong European market, the cotac group is now expanding into regions of the world that are especially relevant for chemicals logistics and are located close to central freight handling ports and logistics hubs. The cotac group's managing director, Lars Nennhaus, explains:
"We support customers exactly where they ask for our portfolio of performances and services." In concrete terms the company invests in creating its own new sites wherever they are needed, and the infrastructure they require, either on its own or in close cooperation with selected partners. Lars Nennhaus adds: "We can further optimise the customer supply chain by expanding our worldwide network."
cotac stands for "complete tank care" and takes this promise seriously. Around 700 expert employees worldwide provide reliable, quality-assured services relating to tank containers. Safety, security and quality are especially important in the company, whose central headquarters is in Hamburg. Workforce training courses are just as much a worldwide standard as are the analyses and internal know-how about product cleaning processes by cotac's chemicals experts. All the cotac sites undergo regular internal and external audits. Sustainability and environmentally conscious action are the rule, in addition to integrity and commitment.
In Houston, USA, the cotac site with its services provided in the immediate vicinity of the international Port of Houston adds an area of 130,000 m2 with 600 tank container storage spaces, a workshop and eleven cleaning lines. As well as this, a further approx. 40,000 m2 of depot area, ca. 5,000 tank container parking spaces, four workshops and 40 cleaning lines are being added in Asia. All the sites have been successfully established for many years and are being integrated into the cotac group's existing network.
Altogether, the company now has at its disposal an approximate area of 500,000 m2 and 12,000 storage bays in its depots, and around 100 cleaning lines. This enables around 200,000 cleaning operations and 100,000 workshop orders to be carried out for cotac customers every year. Nennhaus says:

"By enlarging the number of sites, we have completed another important step in our global expansion strategy. More projects are in the planning phase."