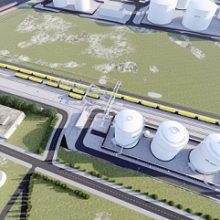 This investment is the next step in GPS's strategic partnership with Varo. Varo, on the other hand, will support GPS in maximising opportunities across its markets and will continue to play a vital role in the logistics provider's ambitious expansion plans.
The new railway line and ethanol storage tanks are set to connect to 17 Class 1 tanks in the Port of Amsterdam, the world's largest trading and blending hub for gasoline and its components. The Port of Amsterdam, which GPS has worked closely with in the developments of its plan, is a partner and important supporter of the project, which is a great fit with its own strategic objectives relating to sustainability improvements.
The new development will expand and secure GPS' future at the Port of Amsterdam site and will provide a more environmentally friendly alternative mode of transport. In addition, this new logistics option will provide greater flexibility to the supply chain of Varo and an important transport alternative to respond to variations of the Rhine's water levels. The project constitutes an important upgrade to the port infrastructure that will see the storage and blending facilities of GPS connect with the main railway system of The Netherlands and Europe.
The new infrastructure is the latest development in GPS' ambitious plans at the Port to continue to grow its facilities at the site and boost value added services. Last year the business expanded its Class 1 certified storage capacity from 148,500 m3 to 282,500 m3, allowing it to scale up its capabilities and fulfil growing demand for its services. The latest phase sees the new state-of-the-art facility upgraded once again to just under 300,000 m3 storage with the addition of the railway line aiming to support growing production needs especially for biofuels and gasses. The expansion is partly being financed through increased debt following a successful refinancing by GPS Amsterdam. The increased debt has been provided by existing lender NIBC and new lender Hamburg Commercial Bank AG.
Eric Arnold, CEO at GPS, says:
"This is an important investment that will open up a whole range of new possibilities to support both our client's and our own further expansion plans, especially in the important focus area of ESG, where we aim to continue to identify more environmentally friendly logistics alternatives for our clients and sustainable business cases in growth segments such as biofuels and gases.
"It is the second expansion investment in our Amsterdam terminal in under a year and represents our commitment to unlocking the full potential of the site with truly world-class assets that help our clients thrive in a changing environment. Varo and the Port of Amsterdam are important partners in this project and in our future growth plans."
Roger Brown, CEO of Varo Energy, comments:

"This is yet another important step forward in our strategic partnership with GPS, which I believe shows the commitment from both sides to the success of the Amsterdam Terminal both today and for many years into the future. Varo already plays an important role in delivering renewable biofuels to its customers across Europe. This expansion of the Amsterdam terminal facilities significantly increases our ability to blend and distribute such renewable fuels in line with Varo's overall growth strategy in this sector."