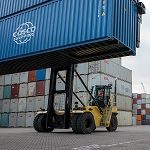 "The quantity of containers shipped worldwide continues to grow, and we are seeing increased use of dedicated empty container yards," says Richard Root, EMEA big truck director for Hyster. "With such scale, double handling of empty containers can unlock efficiency gains that can make a meaningful impact on the bottom line."
For instance, double handling may help improve terminal throughput and reduce congestion at ports – both inside the terminal and on roads. This helps reduce waiting times for lorries, resulting in shorter queues and optimised traffic flows. With greater speed and efficiency, double empty container handling could increase throughput by up to 30%, driving down the cost per container moved and boosting profitability.
Using Hyster® Empty Container Handlers for double handling can also contribute to a low cost of ownership. By decreasing driving distances, operations can reduce fuel usage and tyre wear, while maximising the quantity of containers moved. The Hyster® H9-H11XM-ECD truck series lifts loads of up to 11-tonnes and enables operators to build stacks up to nine high, significantly increasing capacity. This optimises yard space and is both cost and time efficient.
For maximum productivity without compromise on security, the spreaders available for Hyster® Empty Container Handlers all lock the second container. The truck also has an intuitive digital display so that operators can check that containers are seated and secured correctly. Meanwhile, operators get a strong sense of stability, competitive levels of forward visibility and a comfortable experience, thanks to an ergonomic seat and controls.
Even where difficult weather conditions, local policy or other constraints prevent operations from stacking nine high, increasing stacks from five to six containers with a Hyster® Empty Container Handler can still result in a capacity increase of up to 20%.
With a lift capacity of up to 11-tonnes, it is also possible to handle two reefers at once with a Hyster® Empty Container Handler, even if the containers have a wet floor or the load is 'imbalanced' with cooling units positioned on the same side.
"The right choice of truck always comes down to the specific application – no two container terminals are exactly the same," says Richard. "However, our global network of local Hyster® dealers has the expertise to advise whether double handling can help optimise the operation for greater efficiency and profitability."