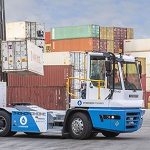 "Our ultimate goal is to offer excellent performance for heavy duty applications combined with favourable TCO", says Rob van Hove, managing director Terberg Benschop. "And we want to support our customers in achieving their sustainability goals. Our strategy is focused on providing flexibility to our customers, so they can adapt to their changing market environment."
Multifunctional platform provides maximum flexibility
The YT203-H2 hydrogen tractor is built on the proven YT multifunctional platform. This ensures the same ergonomics and comfort and the same robust resilience under tough working conditions. Most importantly, the multifunctional platform provides the same easy maintenance and smart management features as in the new YT-model introduced last year. Customers can migrate from stage 5 certified diesel engines to 3rd generation electric drives and, whenever the tipping point is reached, to hydrogen fuel cell power. The new YT-series are the result of Terberg's drive to contribute to CO2-neutral logistics, combined with relentless performance and good TCO.
Focus on full shifts in heavy port operation
The hydrogen terminal tractor is based on the recently introduced fully electric YT203-EV. The YT203-H2 is the result of the joint development between Terberg and zepp.solutions, a tech scale-up that specializes in hydrogen fuel cell systems for various applications. The difference with the EV model is that that the energy is stored in the form of hydrogen, enabling quick refuelling. The YT203-H2 is equipped with four 150 liter (350 bar) hydrogen fuel tanks (600 liter total) containing 14,4 kg hydrogen. This is suitable for a full day operation in heavy-duty applications.
The hydrogen tractor is designed to provide the same or more tractive power than diesel powered terminal tractors, but with zero emission and without the noise of combustion engines. The proof of concept at United Waalhaven Terminals in Rotterdam marks a big step from design studies to real-life validation. The project is being supported by the DKTI-Transport regulation of the Dutch Ministry of Infrastructure and Water Management.
YT203-H2 commercially available in future
At this moment diesel still offers the best performance at the lowest costs. However, the diesel performance comes at a price that it is not as sustainable as electric alternatives. To ensure the hydrogen terminal tractor can be seamlessly integrated into an existing fleet it is designed to match the diesel workflow that is common practice in the logistic industry. Close collaboration in the coming years between Terberg engineering and the team of developers at zepp.solutions will result in a technical viable solution and a robust foundation for the commercial phase in the foreseeable future.
Testing at different customer sites
To learn more about the performance, behaviour and reliability of the tractor it will be tested at a number of customer sites in different countries. After that, the design will be finalised. Terberg will continue to share information about the milestones to come.