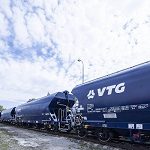 Innovation leader VTG has long been considered a change agent for their industry. With the largest fleet of rail freight wagons for lease in Europe they have consistently demonstrated that rail can be profitable providing the business remains open to change and is nimble when making decisions.
One such critical decision has become a benchmark for quality for the entire global rail industry. End of 2016 VTG decided to equip their entire European rail fleet with equipment from digital enabler Nexxiot. Now the rollout continues with Nexxiot's latest hardware device, the highly anticipated Globehopper 3.
Before we get to the technology it's useful to consider what is happening to the global supply chain and why it's important for us all. As a leading wagon hire and rail logistics company, VTG is committed to making rail freight as attractive as possible. Roads have been becoming ever more congested with trucks, which are between 3 to 6 times more polluting than rail as a mode of transport. To make rail more attractive to shippers, it must become more cost effective as well as more predictable and dependable for customers. If these elements are in focus the whole service will be even more sustainable and can represent a viable alternative to other modalities.
As rail freight punctuality, 'planability' and sustainability improve it's clear that this modality is in the ascendancy again. Since the advent of steam powered rail transport in the late 18th C, there was a rapid growth in innovation as it spearheaded the industrial revolution and the expansion of urbanism. In the past 50 or so years it seems there were few major advancements as old habits die hard and other modes took over. In a post Covid world we see the need for flexibility in the supply chain and the use of resources based on their relative strengths and how fit they are for purpose.
Sven Wellbrock, chief operating officer Europe and chief safety officer of VTG is a great believer in combined transport or in other words making rail properly align with customers' needs by syncing it with other transport types so there are smooth transitions. For example rail can take bulky goods on the longest legs of the journey and road transport can take care of the last mile to the customer. This approach means that the best mode is used for the appropriate part of the journey and the net effect is more sustainable and predictable cargo. This is only possible when each rail wagon is equipped with technology to provide data on critical parameters.
Head of innovation at VTG, Hanno Schell, is leading the adoption of new technologies within the company. He understands the importance in delivering reliability, transparency and the tools that cargo owners desire. He also knows how fast to move to keep ahead of competitors inside the industry but also to ward off disruption from new players who try to take share of wallet. Hanno says:
"Transparency on accurate mileage, impact events, quality of goods and reliable arrival times are all now essential to keep our customers happy. This year's pandemic has reminded us of just how critical rail freight's role in the transportation system is as a whole. We seek every technological advantage to strengthen the position of rail, the eco-friendly mode of transportation, and develop a collaborative schedule for a sustainable mobility transition".
Rail is unrivalled in its ability to satisfy ecological, economic and social demands providing its enabled through technology to address the needs of the market in these times of rapid social change. The Nexxiot technology consists of sensors, communication gateways, connectivity and an intelligent IoT cloud platform to create meaningful actions from the data. "The new Globehopper 3 device delivers many benefits to the customer that until recently were unthinkable" says Nexxiot CEO Stefan Kalmund. Updated features include a new Bluetooth low energy protocol which helps when connecting sensors in a modular way. It provides options to connect via 4G and is already prepared for the arrival of 5G. Besides improved localization the level of ATEX certification has also been further increased. The devices are all zero maintenance with energy harvesting and low power consumption as standard.