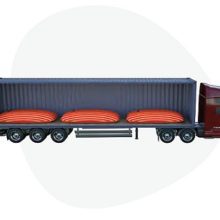 DHL Reefertanks is a three-tank system developed in partnership with supplier Liquitank Solutions to ship liquids like citrus juice which require temperature control while in transit. Currently the new system is being piloted in Mexico to transport any non-hazardous temperature controlled bulk liquid to the United States, but could be used in any country that sees a need for it, DHL says.
Compared with ISO tanks, reefers carrying 55 gallon drums and 40ft flexitanks, DHL claims the reefer tank system allows for a greater product yield.
The nature of the new three tank system leaves less residue or heel in the tanks. The average yield in the DHL Reefertank system is 99.97 percent versus 97.5 percent yield in a tank container or 40ft flexitank, the forwarding group says, equal to 157 gallons less product loss.
In addition, the new system increases temperature visibility while in transit with the ability to hold juice at a constant temperature between -3degC and +3degC, which DHL says virtually eliminates any possibility of juice spoiling or fermenting in transit, especially beneficial to organic juices.
The system also uses less packaging in total which allows for 2,100–4,200 lbs more actual payload.