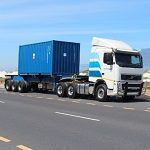 "Bertling's service portfolio and expertise goes far beyond project logistics and heavy load handlings, which will remain one of our key strengths," said Colin MacIsaac, CEO of Bertling Logistics. "We offer plenty more highly specialised logistics services and would like to spread this message to global markets."
Bertling's bulk liquids division is headed from the Aberdeen office by the company's in-house experts Karen Prise and Peter van Schaik. Together bringing more than 40 years of logistics expertise and special know-how in operating flexitanks on a global scale, Prise and van Schaik work closely with Bertling's established worldwide office network and local logistics partners.
"Customer service is at the heart of what we do and our experienced and committed colleagues are ready to manage all your logistics requirements," said Karen Prise.
Bertling's bulk liquids logistics focuses on end-to-end logistics for different types of liquids to and from worldwide locations in ISO tanks, flexitanks, drums or IBCs. In doing so, Bertling has full access to all resources, systems, offices and subcontractors of its global network and dedicated carrier partners.
Bertling's flexitanks are manufactured under fully automated and strictly regulated processes by a dedicated partner in the Far East and are highly secure, compliant and globally certified to ensure maximum quality from loading to delivery. The flexitank is offered in sizes from 16,000 to 24,000 litres with special optional configurations depending on parameters such as density or intricacy of the product.
A re-useable steam heating system, high temperature valves, air vents, container liners and insulation are just some of the flexitank options than can be offered to facilitate the handling, transportation and protection of the liquid products.
The high quality of the Bertling flexitank has been tested by TUV Sud Rail and holds all the accreditations in order to comply fully with the COA Flexitank Quality Management requirements.
Wherever possible Bertling encourages the recovery and reuse of the bulkhead system and steel bars as well as offering a reusable heating pad solution.
Moreover, the company ensures through established partnerships with waste management companies and innovative partners in material reuse and repurpose, that the flexitanks are also recovered and managed in the most environmentally-friendly way possible, offering recycling of the PE and PP layers wherever possible.
"We can proudly say that we have the right people, partners and skillset available at Bertling in both the production and operation of the flexitanks," added Prise. "All our bulk liquid experts, whether in our offices or on site, undergo extensive and regular training and have the experience necessary to offer the most suitable and effective transport solution for any bulk liquid transport, no matter where in the world."
With an established network of local bulk liquid clients and partners, Bertling transports mineral oils, vegetable oils, fresh juices and wine in large volumes on a regular basis. In South Africa, the company has teamed up with a local trucking partner, facilitating the addition of new clients and local services in this important market.
No matter the liquid cargo, Bertling always applies the same high operational, safety and quality standards that its clients know so well. All shipments are closely monitored and made visible in real-time, via Bertling's global transport management system, BLU, which is set up specifically for each client and transport.
"I strongly believe in the growth and future importance of the global bulk liquids market for Bertling, which is predicted to see a considerable increase in the coming years," commented Colin MacIsaac. "I have been and still am personally involved in launching this service and highlighting our developed expertise to new markets and customers. The bulk liquid logistics industry demands reliable end-to-end transport solutions, a developed global network and a highly visual IT system to monitor the supply chain of such transports to ensure maximum quality and taste – service offerings which we can fulfil."
Going forward, the company plans to grow its bulk liquids business (especially the worldwide juice market, which offers plenty of opportunities) by enhancing its global commercial activities in this field and develop its global brand to be seen as a global logistics service provider with special expertise and know-how in such sectors.
"Sustainable and disruptive-resistant transport concepts and supply chains will be our focus in the years to come and become key components of our global logistics services and sustainability concept, which will be launched soon," added MacIsaac. "This is why future-looking IT tools like our Carbon Footprint Tracker, real-time transport data and other smart services to identify the most efficient, reliable and responsible transport solution will become the 'bon ton' of our truly global logistics service promise."
Bertling Logistics recently appointed Steve Walter as general manager for its Houston office. During his 23-year career in the freight industry, Walter has worked for both large multinationals as well as with industry specialist companies and most recently headed the business development team at CEVA Logistics. He will play an instrumental role in identifying new business areas in North America and help Bertling to realise new opportunities to broaden its service.