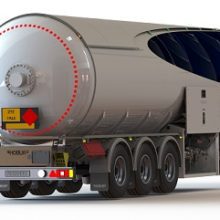 The emphasis will be on lightweight, high volume tank trailers, utilising Tankbouw Rootselaar B.V. knowledge of high strength duplex materials. The first gas tank trailers for the UK will be ready in a short time and the factory will continue to carry out high-quality maintenance under the responsibility of Tankbouw Rootselaar B.V.
Tankbouw Rootselaar B.V. is a sister company of Cryovat, both members of The RootselaarGroup. According to Wim van Rootselaar, CEO of The RootselaarGroup, the acquired activities are a great addition to the current portfolio:
"Hobur's high-quality tank trailers have a reputation that is consistent with our company's philosophy. Every transporter of liquid gases, as well as every car owner, is familiar with the impressive trailers with the well-known Hobur logo. It is an honour to have the opportunity to continue its production".