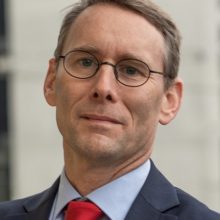 Bernard Guillelmon has deep expertise in rail freight services together with an extensive industry network, which includes experience of serving in boardroom positions of prominent players like Ermewa, as president of UIC Europe and as CEO of BLS. He will position Nexxiot with key decision-makers in a global market worth billions of Euros per year.
"Before Nexxiot arrived on the scene, there was always uncertainty around how many miles a particular rail freight wagon had travelled. Since those days, Nexxiot has expanded its capabilities to evaluate shock profiles, vibration patterns, maintenance activities and much more. Bernard Guillelmon will support bringing the products to the next level by engaging senior rail freight decision and align Nexxiot's development roadmap to solve these issues," said Nexxiot CEO Stefan Kalmund.
As pioneer in global IoT, Nexxiot continually revolutionizes supply chain practices through its' cutting-edge use of data. The extensive product portfolio includes sensors, gateways, connectivity and IoT cloud services for its global customer base. Participants in the supply chain often operate with inaccurate, outdated information. Nexxiot's clients and supply chain participants can access unique information to improve their business processes and open up new revenues. Nexxiot provides access to data and analytics that are used to create automated processes and increase transparency, trust, safety, and sustainability. This data also enables the use of predictive maintenance.
"Without predictive maintenance solutions, hundreds of millions of Euros are wasted every year on unnecessary or late repairs," Stefan Kalmund continued. In complex rail operations, there is a tendency to over-maintain assets as safety is a real concern. The cost of breakdowns also has a huge impact on bottom-line. Rather than maintaining assets when they actually need it, they are brought into workshops early or late or they stay idle because reparations slots are scarce. "Without transparency on asset usage, total mileage, accumulated elevation, maintenance actions across workshops and vibrations and shock profiles, it's difficult to get this right," he added. Clients of Nexxiot are already able to manage the utilisation of their asset fleet and provide valuable services to cargo owners and shippers. Stefan Kalmund continued, "With the addition of Bernard Guillelmon to the team, we can better shape our solutions to make more significant and rapid improvements for our clients business practices and profitability."
Bernard Guillelmon has proven himself in rail and logistics management and has a profound understanding of the challenges associated with digital transformation. As an expert in change management, he will support customers to find the best ways to apply the data using analytics and machine learning. At the same time, he will enable cultural readiness by supporting knowledge transfer and get the right stakeholders engaged. With his very broad network of key decision-makers who are active in shaping the rail industry, he is perfectly placed to handle these requirements.
"This is a key area of growth for Nexxiot," CEO Stefan Kalmund went on to explain. "We see that the gathering and processing of data is now firmly within our grasp. The next phase is to redefine the processes in the industry." The entire value chain is supported with hardware, software and via easy-to-use mobile applications. To create maximum value, these applications must be aligned with the physical reality on the ground.
Bernard Guillelmon stated: "In the next years, the monitoring of the rolling stock will be of crucial importance for the operators as Entities in Charge of Maintenance (ECM). Nexxiot has already removed the technical barriers through its on-board devices. Now we transform and optimize the processes using our data, analytics and our domain expertise."