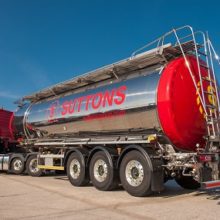 The market leading logistics provider had been providing ad-hoc support for Azelis over many years when there had been an increase in demand and had therefore proved themselves to be a trusted and reliable partner to work with.
Suttons' customer service gave assurance to Azelis, and their willingness to invest in new fleet meant that the customer was able to see not only an improvement in reliability, but also a reduction in environmental emissions.
Due to the hazardous nature of the material, Suttons focused on risk assessing all aspects of the logistics process to ensure a quality led safety approach. This was welcomed by the customer and reinforced their confidence in the haulier's capabilities.
Suttons have notable experience in transferring employees into its business and this contract was no exception. The incoming employees underwent a successful TUPE transfer and despite the challenges and confines of the pandemic, a diligent consultation process was undertaken, and all individuals were content with the outcome.
The contract involves deliveries across the country and Suttons' nationwide network coverage allows them to fulfil this requirement confidently.
Michael Cundy, Suttons Tankers managing director, commented:
"This contract with Azelis reinforces our position as market leaders in the hazardous liquids and gases sector and links directly to our growth strategy.
We are looking forward to strengthening our existing relationship with Azelis further and providing them with an excellent level of service."
Jim Robertson, operations and SHEQ manager at Azelis, said:

"Suttons are a competent partner who have demonstrated their strong focus on customer relationship management and providing a high quality, safe solution for us over the years.
"We are delighted to be working with such a reputable logistics provider who can provide continuous improvement to our business."