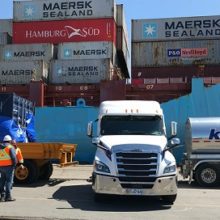 Starting as an over-the-road (OTR) operator – Groupe Synergie Express – in 2008, the group has rapidly expanded through developing an expertise in implementing and integrating multi-level logistics processes. In addition to OTR, Synergie Canada's major operations are now in special projects, ocean, air & rail, and oversize cargoes.
Serving clients across a range of industrial sectors, Synergie Canada walks customers through the complexity of multi-level logistics that requires comprehensive synchronisation and detailed management of all required steps. The group ensures the entire planning of integrated logistics, from negotiation to delivery, with a particular strength in worldwide planning and supply chain management.
So far the pandemic has not greatly hit the company's expansion. In fact, revenues have increased by 20 percent this year. "We were able to assist many companies in their PPE (personal protective equipment) supply by chartering aircraft from Asia to North America," says Katerina Hulis, liquid bulk project manager. "The past few months have been a challenge with space and equipment availability out of Asia. However, with the help of our overseas partners we have managed the necessary allocation of resources for our customers flawlessly."
In 2014, the firm launched a bulk liquid logistics operation, offering shipment using flexitanks, ISO tank containers and IBCs. Two basic flexitank systems are offered: one for OTR trailers, and the other being 24,000 litre units for 20ft maritime containers.
The company offers tailored door-to-door solutions for effective and secure transport of bulk merchandise, saying it can make any change seamless for the client's supply chain needs.
Opening the market
But Synergie also broke with the standard flexitank offering generally available in North America by opening the door to more manufacturers from around the world and enter that market. Various suppliers from Europe, China, and India now work with Synergie Canada.
"For years a client was using particular equipment that was not as efficient as it could be. But we were able to provide them with two options that also afforded savings of 16 percent per shipment," Hulis adds. "We are therefore able to offer not only options in terms of routing but also a truly cost efficient solution for each of a client's products."
Currently, the group ships (non-hazardous) chemicals, food grade concentrates and extracts, wine, and construction materials in liquid. In the latter sector the COVID-19 pandemic did provoke a slight decrease in construction industry shipments, but that has been picking up again, albeit slowly.
The main trade lanes for bulk liquids are handling imports from Europe and Asia, exports to Asia and the USA, as well as many domestic lanes.
Synergie Canada also became a member of the Premier Bulk Liquids Alliance (PBLA), a networking group for freight forwarders, logistics companies and service providers in the bulk liquids transport industry.
"The PBLA alliance is a global network that knows bulk and its technical aspects. Knowledge goes a long way with niche markets," says Hulis. "We are fortunate to have made some relationships where both parties can learn and profit from each other."
Digitisation
In common with much of the logistics sector, Synergie Canada is making significant investments in digitising its process and customer interface.
Corporate vice president Sébastien Suicco explains that the company developed its own quotation tool where it connected with major trucking companies in order to be more efficient when it quotes customers for OTR transport.
Live ocean and air tracking is also being made available for clients, as well as a new client portal.
"This is currently under beta version with one of Synergie's customers," says Suicco. "When fully implemented, customers will be able to send quote and booking requests as well as having full visibility for their shipments through Synergie."
Subscribe today to receive your issue of Bulk Distributor straight to your door.