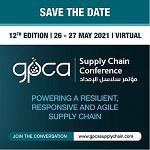 There have been calls for change in the recent past, but this presents the perfect opportunity to thrive in a new reality, where we reconfigure supply chains, manage disruptions and improve visibility by enhancing digital capabilities.
Against this backdrop, GPCA is proud to host its first ever virtual edition of Supply Chain Conference. Now in its 12th edition, the 2021 cycle of the virtual event will be held under the theme of powering a resilient, responsive, and agile supply chain and it is scheduled for 26-27 May 2021.
The agenda will focus on building a supply chain that is resilient, responsive, and agile to drive efficiency and profitability. The dialogues at the event will highlight learnings from the pandemic, reflect on the current tactical steps taken by leaders to thrive in the future and present myriad of opportunities for supply chain transition and growth in a post-pandemic world.
The event will follow a unique format which includes thought-provoking keynotes, fireside chats, impactful case studies, digital seminars, interactive masterclasses, and engaging panel discussions.