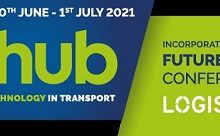 To be held at the world-famous Farnborough International Exhibition and Conference Centre, Logistics UK's free, two-day Future Logistics conference, taking place on 30th June 2021 and 1st July 2021, will examine the issues set to challenge the logistics industry of the future such as how to accommodate environmental targets, harness new data and technologies, and tackle the growing skills shortage. Topics on the agenda include future vehicles and fuels, the power of data, attracting and retaining talent, funding strategies, and effective business models for the future.
Elizabeth de Jong, policy director at Logistics UK comments: "The logistics industry is evolving at a rapid rate, with new technologies set to transform the landscape of logistics as we move towards our net zero emissions future. The Future Logistics conference will provide an invaluable opportunity to discover and debate the influences which will shape the logistics world of tomorrow, all at a safe, Covid-19 compliant venue. With an industry-wide view and decades of expertise, Logistics UK is positioned perfectly to bring together some of the most respected, influential and innovative experts in the industry to map out the future of logistics; the conference promises to be an unmissable event."
In addition to a session by Major Peake delegates will enjoy sessions led by representatives from businesses including Highways England, Renault Trucks UK & Ireland, National Grid, DHL Supply Chain, UPS, Volta Trucks, and the Advanced Propulsion Centre.
As well as an extensive exhibition featuring the latest developments in logistics and passenger transport, ITT Hub will also provide an outdoor vehicle display area and a unique series of "ride and drive" experiences, to give attendees the chance to try the very latest in vehicle technology for themselves. For further information about the conference programme at the Future Logistics Conference, and to register for a free place, which will also provide access to ITT Hub please visit www.itthub.co.uk/conference/programme