Logistics service provider Van den Bosch will take over the activities of Tankspeed Logistics Ltd in Newport (South Wales) from 10th April 2021. With this acquisition, Van den Bosch is strengthening its leading position in the intermodal transport of dry bulk products in Europe.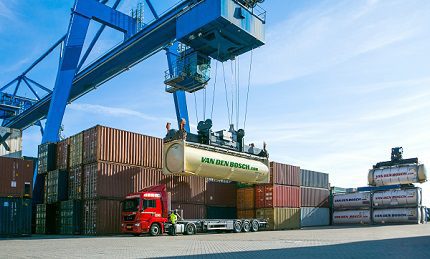 Tankspeed Logistics was founded in 2005 as Tankspeed-Fraikin by Mitzi Walker and Manfred Fraikin. Since 2015, all shares have been owned by managing director Mitzi Walker, with the company operating under the name Tankspeed Logistics. The core business consists of the transport of dry bulk products for the chemical industry, such as PVC powder and minerals. These activities take place in the United Kingdom and between the Benelux and the UK.
Market leader in pressurised silo containers
In recent years, Van den Bosch has invested in expanding its dry bulk activities in Europe, particularly in pressurised silo containers. Tankspeed Logistics also focuses on this specific segment. "With the acquisition of Tankspeed Logistics, we are strengthening our position as the market leader in transport with pressurised silo containers in Europe and are committed to further developing our business in the UK", says Barry Gruijters, operations director division dry bulk at Van den Bosch.
Growth ambition
The activities of Tankspeed Logistics will be continued by Van den Bosch. The takeover expands the fleet with various 30ft and 40ft pressurised silo containers. As commercial manager, Walker will remain closely involved in the operation. Gruijters explains: "Tankspeed Logistics is known for its high-quality service provision. Mitzi Walker's network and experience will be of great significance to the continued success and further development of the activities. With Mitzi on board, we have every confidence in the realisation of our growth ambitions in the UK market."
Ongoing relationship
Walker is equally excited about the takeover of activities by Van den Bosch. Tankspeed Logistics customers will benefit from the network, capacity and expertise of a logistics multinational. "I am delighted to be working with Van den Bosch to optimise our strengths and experience. Tankspeed Logistics and Van den Bosch have been working together for a number of years. I have seen how Van den Bosch has grown its business, especially in the UK, and have seen impressive innovations in the bulk sector. I envisage a prosperous and ongoing relationship with customers and suppliers, while supporting the ongoing development to grow our business."