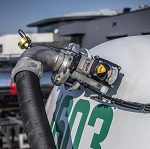 Barry Gruijters, operations director division dry bulk at Van den Bosch, has worked extensively on this issue. The solution lies in an innovation that he developed together with Ants Technology & Consulting: a high-quality air dryer to improve the air quality in the silo trailer.
The air dryer is equipped with an active carbon filter. This means that the incoming air is filtered, so that it's of better quality than the outside air which is still present in the trailer from the loading process. Gruijters explains: "The system sucks in outside air, filters and dries this air and then blows it into the trailer. The unfiltered and potentially moist air in the trailer is discharged. In this way, we improve the air quality in the trailer and prevent condensation. This reduces the risk of residual loading and prevents the growth of bacteria or germs."
Hygiene and food safety
The first trailer is now fitted with the air dryer and ready for the test phase. A lot of attention has been paid to hygiene and food safety (such as preventing protruding parts and unevenness) and to the use of food-grade materials. The trailer is also equipped with sensors. "Among other things, these measure the moisture value of the incoming and outgoing air and are connected to a data logger with which we can analyse the data during and after testing," says Gruijters. The air dryer is active during transport and also operates when parked (if connected to power).
Milk powder and flour
The air dryer is used for the transport of dry bulk goods for the food industry. "You especially want to keep hygroscopic products such as milk powder and flour completely dry, to guarantee product quality and functionality", continues Gruijters. "With the development of this air dryer, we are raising the standard in the market. This type of system is currently only used for the dedicated transport of flour. But our design has a much broader application and focuses not only on drying, but also on air quality. This gives us the advantage in the area of food safety."
The test trailer has now been put into service and is used for the transport of flour. Following this test period, the air dryer will be further developed in consultation with interested parties.