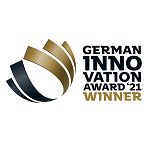 Packwise specialises in networking industrial packaging. The innovation project with BASF and Hesse Lignal is dedicated to the digitalisation of the supply chain. By simply attaching the Packwise Smart Cap, which is equipped with sensors, to the intermediate bulk containers (IBCs), digital twins of these industrial packages are created. The smart IBCs provide important information about the contents of the containers as they move through the supply chain. Real-time data on fill level, location, impact, movement and temperature can be viewed via the Packwise Flow software platform. The system analyses this data to map and automate supply chain processes. In this way, large container fleets in particular can be managed effectively. The manual effort is reduced.
"In the joint pilot project, we were able to offer the partners additional transparency in the supply chain through our technology," says Packwise CEO Gesche Weger. "From the dispatch of the material at the BASF site to its consumption by the customer." For the Dresden-based company, the German Innovation Award is of great significance, she adds. "It underlines that we offer added value with our innovative approach, from which many industries and especially companies from the chemical industry can benefit."
The close cooperation with such innovative companies as BASF, Hesse Lignal, GOcon and Packwise shows how much potential there is in the cross-company integration of supply chains through the use of IIoT solutions, explains Philipp Rennert, head of sales at Packwise. "Based on transparent data, ordering, purchasing and delivery processes can be optimised, inventories reduced and entirely new services offered." With a view to customer service, quality and safety as well as overall costs along the supply chain, all partners involved could thus benefit.
The German Innovation Award ceremony took place as an online event on 18 May 2021.