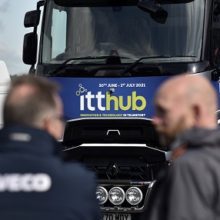 Kevin Green, marketing & communications director at Logistics UK explains: "Covid-19 safety is of the utmost importance and consideration for social distancing and sanitation measures have been prioritised in every aspect of the event's planning; Farnborough International Exhibition and Conference Centre's team has been rigorous in taking every possible step to protect visitors to the show."
More than 150 of the UK's most innovative manufacturers, including Volta Trucks, Fiat, Ford and DAF Trucks, as well as key government departments and agencies, will be showcasing their cutting-edge services, products, strategies and ideas over the two-day event. More than 30 speakers will be presenting at Logistics UK's Future Logistics Conference, including Major Tim Peake CMG.
There will be a requirement for face masks to be worn indoors, track and trace will be in place via the registration process and temperature checks will operate at entrances. In order to ensure the safety of all attendees and smooth operation at the venue, visitors and exhibitors must register in advance of the event, print off their badges and present them at the entrance for scanning.
To book your free place to the exhibition and conference, please visit www.itthub.co.uk/