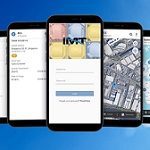 The easy-to-use app and user-friendly interface shows in just a few swipes and taps the entire fleet, down to the details of an individual asset. All assets are shown on a worldwide map overview. By choosing an individual asset, the customer has access to all details of the asset. The strength of the IMT Fleets App does not lie alone in its ability to search in the entire fleet of all assets, but also to see the particular asset group (fleet) that a customer might be interested in.
Dethmer Drenth, founder and managing director, said: "The IMT Fleets App fits perfectly IMT's philosophy of making data efficiently available to our customers and thus making fleet management even more optimised and transparent. With this mobile app, every customer will have round-the-clock visibility over every asset anywhere in the world right on their mobile device."
In the near future, IMT expects to add more features and apps to further broaden the IMT smart applications, support and service to our customers. "With each new app or new feature, we want to give our customers better access to vital data they need to control the supply chain more efficiently and to optimise asset utilisation in the logistics processes," says Drenth.
The IMT Fleets App is now available for customers via the Google Play and Apple App Store.