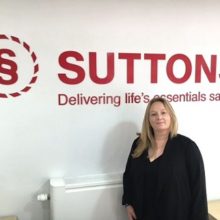 Karoline is a member of the Chartered Institute of Personnel and Development (CIPD) and has extensive senior level human resources experience, most recently with KCOM.
Karoline joins Suttons at an exciting time in its strategic development and will focus on HR strategy to support business performance, employee engagement, training and development, as well as talent management.
Suttons' drivers are at the heart of the business, so working closely with these colleagues will also be at the forefront of Karoline's agenda.
Managing director, Michael Cundy, commented: "As we continue to work with all of our valued customers and look to build further on our ambitious growth plans, it is crucial that we have the expertise to ensure that our workforce is well prepared.
"Karoline's appointment will strengthen our ability to have a high performance culture with committed, driven individuals who are supported and given great development opportunities."
Speaking of her appointment, Karoline said: "I am delighted to have joined Suttons Tankers and I'm looking forward to playing an active part in its continued success and development."