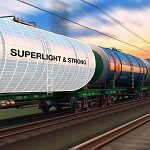 For safe transport in difficult conditions
Tank containers of all kinds are subjected to very high mechanical loads during loading and transport, whether as containers on a cargo ship or as tank containers on trains or on a truck. Lamilux X-treme provides safe and energy-efficient transport of tank containers.
Even under the toughest conditions on the world's roads and seas, the material remains visually appealing and maximises the durability of the entire structure. The operator can also save running operating costs for his fleet, as the tank container has a significantly lower dead weight than ones with conventional exterior shell.
Lamilux X-treme is a fibre-reinforced composite material with the maximum possible content of reinforcement fibres in a highly elastic epoxy resin matrix. Advantages of Lamilux X-treme tank cladding include:
Reduced maintenance and repair costs
Maximum durability of life & less downtime
High-quality appearance even under the toughest conditions
Reduced operating costs due to weight reduction
High-strength and thermally resistant
Lamilux X-treme and Lamilux X-treme Carbon absorb load and tension forces, making the whole structure resistant to torsion. The carbon-fibre-reinforced polymer is up to 50 per cent lighter with a tensile strength three or four times greater than steel or aluminium.
The low thermal expansion in this composite material ensures that large structural components can be produced without bubbles or distortions emerging in the long term. The low thermal conductivity in products and the consequent optimised insulation in cooling transport containers make powerful arguments for the material's use in refrigerated trucks.
High impact resistance
X-treme products can also resist loads in a way that completely prevents major damage and downtimes due to repairs in most cases. The material even manages to hold fast during hail storms and adverse weather conditions, making it ideal for both body interiors and exteriors.
Lamilux fibre-reinforced composites are produced in a continuous, automated production process. The separate production lines guarantee minimum delivery periods while providing consistently optimum quality which can be reproduced at any time. The X-treme product range can be manufactured in widths up to three metres while the length of sheets or rolls are tailored to customer requirements.
The most X-treme composite on the market
With the maximum possible content of reinforcement fibres, equal to approximately 70% by weight, and perfect bonding with the high-strength epoxy resin matrix, enormous tensile strengths can be achieved which are more than twice that of steel.
Global standards for the future of the tank container industry
As part of the global ITCO association, Lamilux Composites is setting global standards for the transport of tank containers, actively shaping the future of the tank container industry.
"We are very pleased to have become a member of ITCO in February this year and to be able to work with ITCO on its mission to promote and present tank containers as a safe, cost-effective and flexible means of transport. Here we can support the organisation especially in the technological developments in the interest of quality and safety in the tank container industry" says Sascha Oswald, head of product management at Lamilux Composite.