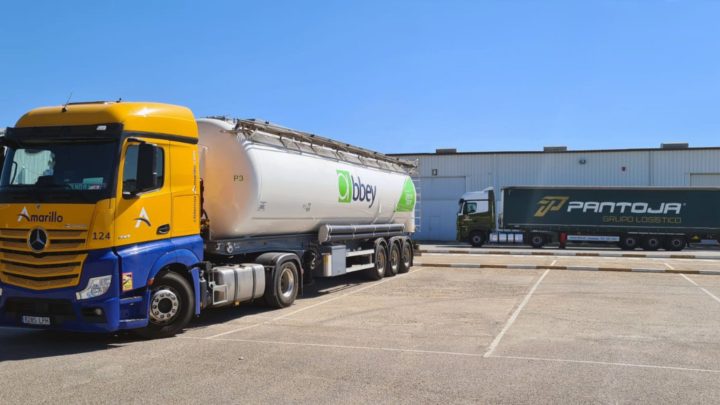 Amarillo is a large bulk powder road tanker company based in Seville, Spain and part of the full-service logistics company, Pantoja Grupo Logistico.
The partnership is designed to provide customers with a faster, more reliable and cost-effective transport solution through a joined-up approach that optimises the reach of the two businesses.
The partnership combines Abbey and Amarillo's knowledge and experience in bulk food road tanker transport and maximises their collective fleet capabilities to provide a reliable flow of feedstock ingredients between the two countries.
Using multimodal transport links, the tanks are reloaded for the return journeys, minimising empty miles and deploying both company's vehicles and drivers to ensure products move on a continuous basis.
Paul Laverick, head of Abbey's powder division, said: "This new partnership demonstrates Abbey's ability to support road tanker companies in Europe thanks to our scale and network capability in the UK. Amarillo is highly regarded for its skills and experience in bulk dry food grade products and we are delighted to begin working together as we maximise the vast experience our combined businesses have for the benefit of our customers."
Lars Stendahl, Amarillo's operations director added: "Abbey Logistics is well known to us and its reputation for customer service and flexibility together with specialist knowledge of the products we carry, made the company a natural fit for our operations and customers."
Back in the UK, Abbey has bought liquid tanker specialist Welch Hire.
The transaction extends Abbey's network coverage with the addition of 48 bulk liquid road tankers and 13 tractor units. The deal also gives Abbey an operating site in the South West of England and a larger customer footprint in Europe, which Abbey says will open further commercial opportunities.
Welch is well known in the bulk liquid food and animal feed markets in both the UK and Europe, and the company shares several customers with Abbey. Together, the combined business will strengthen Abbey's position in bulk liquid food as the deal adds further scale, capability, and flexibility into its operations.
Founded in 1998, Welch Hire has a large and modern liquid bulk road tanker fleet, and in addition to the tank hire business, the company provides both fully managed logistics solutions and single 'spot' product movements of bulk liquid food grade products throughout the UK and Europe.