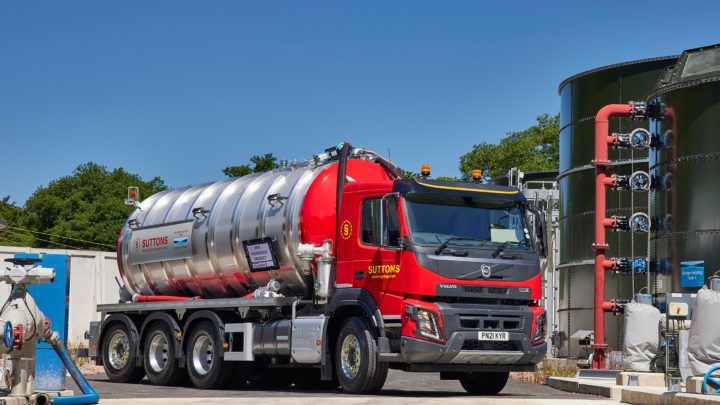 The logistics firm deployed the Microlise solution across its fleet of 500 tractor units and over 850 road tankers and trailers.
Microlise's technology will help Suttons manage its fleet through vehicle tracking and utilisation reporting, as well as driver performance to reduce fuel costs.
The software firm's Journey Management product will help Suttons deliver an enhanced customer experience by proactively managing issues and changes. The schedule execution board has a detailed picture of which vehicles are running early, on time or late, highlighting which jobs have been completed or remain pending.
Suttons is also using Microlise's Proof of Delivery technology to help driver communication and digitise receipt through sign-on-glass and image capture, with exceptions identified and managed by the Suttons team.
The solution will also help to strengthen Suttons' existing focus on safety. The Safety Module, which includes the ClearVision multi-camera solution, helps protect drivers, support driver training and provide access to in-depth information relating to any incidents. It combines granular telematics data with actual footage. The ClearVision camera solution also has blind-spot visibility for drivers through the in-cab DriveTab unit (an Android tablet device).
The customisable vehicle check feature ensures that drivers carry out checks in line with legislation and company policy, with the system flagging when vehicles require maintenance.
"Investing in Microlise's fleet technology supports our drive towards continuous improvement and service excellence and provides us with the intelligence we need to improve processes and increase customer value," said Michael Cundy, managing director of Suttons Tankers. "The multi-camera solution, which integrates with Microlise's vehicle telematics system, is helping us to reduce our risk profile and better protect our drivers."
Suttons has also taken delivery of 14 new Volvo FMXs, the first rigids to join its fleet, after being impressed by the performance of a demonstrator supplied by local dealer Thomas Hardie Commercials.
The order comprises a mix of seven 6×4 rigids and seven 8×4 tridems for use exclusively on the company's contract transporting sludge for Yorkshire Water.
Mark Scott, Suttons' fleet engineer, said: "We've run Volvo for many years, but this is the first time we've opted for FMX rigids. Our contract work is very particular, so the team road-tested the truck over two days through the rolling Yorkshire Dales to see if they could handle the job.
"We were able to assess a variety of factors that impact on each job, including access, turning circles, manoeuvrability and traction, and to say we were impressed would be an understatement. The demonstrator performed exceptionally and ticked all the boxes. The fact Volvo allowed us to field-test the truck in our more challenging locations sealed the deal."
The larger 8x4s have been specified with a 9-tonne front axle, tridem bogie rear suspension and a lifting and hydraulically steered tag axle for manoeuvrability and a small turning circle, despite their larger size. All the FMX Globetrotter tankers benefit from the Drive+ pack, for added driver comfort.
The trucks, which are mounted with bodywork by Crossland Tankers, will operate on shift work, clocking up roughly 50,000km a year and are all covered by a Volvo Gold Contract, with servicing and maintenance to be carried out by Crossroads Truck and Bus, which is closest to the truck's Bradford home base.
Finally, Suttons Tankers has a new as human resources director. Karoline Campbell is a member of the Chartered Institute of Personnel and Development (CIPD) and has extensive senior level HR experience, most recently with KCOM.
Campbell will focus on HR strategy to support business