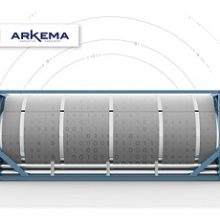 The two companies have joined forces to digitise Arkema's Isotank (Tank Container) and rail freight wagon fleet using Nexxiot's cutting-edge IoT devices and intelligent cloud platform. This partnership will deliver end-to-end visibility for Arkema customers to improve quality standards and transform the overall service experience.
Forward-looking companies like Arkema are constantly thinking about ways to create value with new innovations. Jean-Marc Viallatte, Arkema vice president, supply chain group said: "We understand our customers require the highest levels of confidence around the transportation of their cargo. They expect visibility from the moment they place an order to the second that the cargo is delivered. We believe that by monitoring location and other critical cargo parameters like shock events, temperature, pressure and levels, we can take our customer experience to the next level."
The Nexxiot technology will be integrated with wider digitisation initiatives to create a seamless experience for users. The ambitious Arkema program will combine sensors and business intelligence to deliver much more than location tracking. "Work is underway to deliver predictive services based on data, to increase trust, safety and security as part of our overall digital transformation strategy." Jean-Marc added.
Nexxiot CEO, Stefan Kalmund, explained: "Better transportation simply translates to better services for the end customer – the cargo recipient or owner. The data is processed using Nexxiot's powerful machine learning software to continuously improve supply chain performance. This means reducing the time the fleet stays idle and monitoring the practices of transport partners like carriers. Ultimately, these data derived opportunities translate to higher quality processes, better prices and an unparalleled end-customer experience. This is why our clients choose our product."
This is a major shift for the chemical sector. When the products left the plant in the past, chemical goods were at the mercy of third-party service providers across the transport chain.
Now with IoT hardware like Nexxiot's Globehopper device and the integration and analysis of data in the intelligent cloud platform, it becomes possible to create continual improvements and increased value. Whilst the main focus for Arkema is on customer experience improvements, it's exciting to see that the increased efficiency can enhance levels of sustainability too.