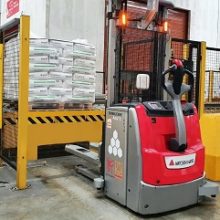 The pilot AGV was first deployed to operate on a 24/7 basis to move products from the automated packaging lines to the storage facilities. The AGVs are unmanned, electric-powered robots that automatically navigate, communicate and perform material handling tasks.

They excel in repetitive movement of materials over a predetermined path, enabling the company to improve productivity by redeploying skilled operators for more complex tasks. In addition, direct integration with the warehouse management system enables visibility on the product flows, reducing discrepancies and improves quality.

After a successful pilot test run, the project will gradually expand to a fleet of five AGVs, by the end of the year, and possibly also eventually to other regional markets reinforcing Katoen Natie's commitment to automation and digitalisation.

The AGV project would reinforce Katoen Natie's sustainability goal of reducing carbon footprint while ensuring a competitive and sustainable chemical logistics service.

The whole project is powered by large solar installations on the rooftop of the company's Jurong Logistics Terminal.